No. 15 was originally: The easiest way to start a way is to share a lie.
QUOTES | PROVERBS | IDIOMS | WISE SAYINGS
© Okpara Okechukwu D. 2010
1. Where lies fly skies dry
2. A true marriage results when a man and a woman forms a molecule of love
3. Sin shares the same bed with death
4. Sin comes in pairs: human and spiritual
5. If phone's on and fun's to be told: fun's not on if phone's on hold
6. He that's whistling while he's dying has a hidden agenda
7. While you and your 'present' are planning eachother : plan your 'tommorrow' or it'll plan you.
8 . A wind of fire is soon changed by a weather of rain
9 . Try not to be an answer to questions only fools ask (avoid making mistakes not meant for you)
10 . Fly not in a night without a light (always ask for guidance)
11 . Only fishes live in seas of liquid houses.
12 . It's either the closer the better or the closer the harder (you can't serve God and Money)
13. You will likely get a war if you start selling lies.
14. "Birthdays" shine, "Birthnights" hide. (15/04/2010)
15. The easiest way to scatter someone's friends is to share to them their lies. (15/04/2010)
16. Poetry is food that makes poets starve.
17. When you love people, don't love them for what they did but love them as heaven;
when you hate people don't hate them as hell but hate them for what they did.
18. 'Think more and write less' is safer than 'write more and think less'.
19. Unemployment is a typical example of an excuse.
20. The Future is the only one that could say to the Eternal : "I'm old enough for you to be older than me".
21. The mathematics of politics has no ethics.
22. The god of diseases is the disease of the gods.
23. The body of a cube is always a square.
24. Quotes on Silence
25. Life is sometimes the one you lived for; and not the one you hoped for.
26. The only person that goes to the grave with you is your soul.
27. The title given to someone without their consent is "Late".
28. R.I.P. is not meant only for people that lived in peace.
29. A farewell to one's sins begets one's saints.
30.Those in love are those that have preference for others' headaches over their own heartaches.

More Quotations >>
Welcome to PoetryAbacus : An all-in-one passion for poetry
Copyright © 2010, OKPARA OKECHUKWU D.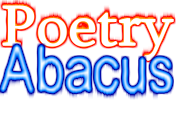 ---