Place your adverts here and enjoy the patronage of our global audience
Corruption
I have a villain which is a measure of how good a leader is.
I drink the hot water of riches while the poor harvest its vapour.
I am a season celebrated by many;
Of which some complain of not much rain and gain.
I am a part of almost all cultures;
Indeed, I am inherited in some.
Just as the pen writes on the paper,
I do unto the government.
I appear at the tip of bad business,
Also oppress those beneath.
They say I am an ungrateful urge of want.
In fact, I am the honey in the jar of money.
I have the economy in hysterics of my destructive tools;
Tools that cheat the market and the public alike.
Premium services :
| Product Adverts | Poetry Publications |
PoetryAbacus. Copyright © 2010, Okpara Okechukwu D.
Comments/Suggestions or errors/bugs should be reported or emailed to the address:
chukwuebube@gmail.com or chukwuebube@ymail.com
Welcome to PoetryAbacus : An all-in-one passion for poetry
Copyright © 2010, OKPARA OKECHUKWU D.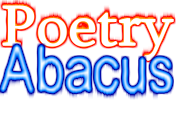 ---