HIV stands for Human Immuno-deficiency Virus
It is the virus/germ responsible for the AIDS (Acquired Immune Deficiency Syndrome) pandemic.
Note: AIDS is a "disease condition" and not a "disease".
Welcome to PoetryAbacus : an all-in-one passion for poetry

Last Update :
Sun, April 3, 2016 0:09 AM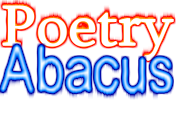 ---
| EDUCATIONAL, INSPIRATIONAL | CREATIVE, IMAGINATIVE | CLASSIC, ROMANTIC | LITERARY, CONTEMPORARY |
Copyright © Okpara C. Okechukwu D. All Rights Reserved.
|03/08/2010|
H. I. V.


H.I.V.
What a word
What's a germ
In our world

H.I.V.
Human based
Body's threat
Strong virus

H.I.V.
What kills you?
Anything?
Nothing yet