The Scourge Of A Disease: is about the HIV/AIDS pandemic in some areas of south-Saharan Africa.
Welcome to PoetryAbacus : an all-in-one passion for poetry

Last Update :
Wed, March 16, 2016 9:59 PM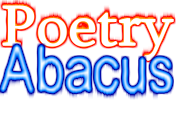 ---
| EDUCATIONAL, INSPIRATIONAL | CREATIVE, IMAGINATIVE | CLASSIC, ROMANTIC | LITERARY, CONTEMPORARY |
Copyright © Okpara C. Okechukwu D. All Rights Reserved.
|2010|
The Scourge Of A Disease
Taste our grief ears of healing.
Sorrowful has been our smiles.
The lives we lost are greater than the little we gained.
Where is our saviour's door, our pleas rebounded?
Our wounds are great with disgust.
O holy church stand fast in our defence,
As we write these languages to our friends above.
Show us a cure or grant us the right knowledge,
As we kneel with our pleas and lay our cause.
A deadly virus has invented havoc on us:
Six and half with three big zeros worth of burials a day!
Some miseries unaccounted for, because of many others to worry about.
Return the sweetness or your adorable name,
For fruitless has been our quest for the cure of this disease.
Doctor nature, time to save our continent and our families is now.