I was scribbling something on a piece/sheet of paper with a red pen, and voila! I got the idea to do something with the colour red.
The original version was written on 28/04/2010 and it goes like this:
On my hands from within it
Liquid red water flow
'Tis blood, with it written in red.
blah blah blah...
Welcome to PoetryAbacus : an all-in-one passion for poetry

Last Update :
Sun, April 3, 2016 0:35 AM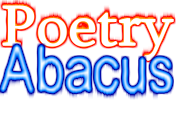 ---
| EDUCATIONAL, INSPIRATIONAL | CREATIVE, IMAGINATIVE | CLASSIC, ROMANTIC | LITERARY, CONTEMPORARY |
Copyright © Okpara C. Okechukwu D. All Rights Reserved.
|07/05/2010|
The Blood Signature
Letter in hand
About epidemic spread
Contaminated liquid fears
Written for aid
In blood ink
Red Cross signed
From camps dread
Red water tears
A Flu's raid
Populace health sink