Place your adverts here and enjoy the patronage of our global audience
The Geniuses
A people with brains woven,
from the finest organics.
You may listen now or listen again,
theirs is once.
Throw nothing at them,
from them something to you.
You are one of them if they owe you;
Perhaps no better if they don't.
These are the people that live
Lives older than themselves.
Premium services :
| Product Adverts | Poetry Publications |
PoetryAbacus. Copyright © 2010, Okpara Okechukwu D.
Comments/Suggestions or errors/bugs should be reported or emailed to the address:
chukwuebube@gmail.com or chukwuebube@ymail.com
Welcome to PoetryAbacus : An all-in-one passion for poetry
Copyright © 2010, OKPARA OKECHUKWU D.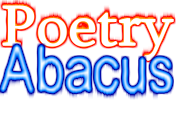 ---