Place your adverts here and enjoy the patronage of our global audience
Politically Killed
At nine he saw no sign, and said: "wine should be mine"
Thinking that it was fine to dine on time
To the door was his leave, that which is to be his final
A gunshot faxed its fear
Forehead bursts in sudden blow
White content spew over
Tablets of bullets rained on him, blood sprayed in random
Assassination entered the lounge.
Anxiety and security everywhere
Eyes blinking and head tilting and turning
Chaos and cries, shouting over each other
Photographs taken, questions asked, unasked
Press and their noise, and their nosy wits.
On the corner of his head, stood the sting that was tired of a few miles journey
Premium services :
| Product Adverts | Poetry Publications |
PoetryAbacus. Copyright © 2010, Okpara Okechukwu D.
Comments/Suggestions or errors/bugs should be reported or emailed to the address:
chukwuebube@gmail.com or chukwuebube@ymail.com
Welcome to PoetryAbacus : An all-in-one passion for poetry
Copyright © 2010, OKPARA OKECHUKWU D.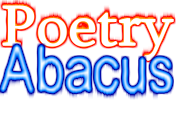 ---