Place your adverts here and enjoy the patronage of our global audience
Busy Sea Of Businesses
Nigerian turtles crossing boundaries,
Some moving like the dreaded tortoises.
Beware of barren crocodiles and the like,
Searching for shallow continental fishes.
Hovering American sharks,
Majestic in their paths.
While the urchins of China,
Grow day by day.
Stranded Asian crabs lay unnoticed,
Beneath the G-eight creature.
But there are still fairer fishes,
Like the starfish of shining British skies.
Lobsters of poor African nature,
Resting on their insignificant nests.
The Indian and Chinese twin dolphins,
With their Brazilian friends worth watching.
Australian oysters happy,
In their secluded undisturbed homes.
Remember also the Russian catfish,
Trying out its economy skills.
'Twas always a busy world,
Unequal in its economy.
This is the busy sea of businesses,
In which the world swims.
Premium services :
| Product Adverts | Poetry Publications |
PoetryAbacus. Copyright © 2010, Okpara Okechukwu D.
Comments/Suggestions or errors/bugs should be reported or emailed to the address:
chukwuebube@gmail.com or chukwuebube@ymail.com
Welcome to PoetryAbacus : An all-in-one passion for poetry
Copyright © 2010, OKPARA OKECHUKWU D.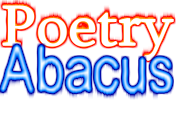 ---