Place your adverts here and enjoy the patronage of our global audience
In The City Of Poverty
In my current predicament I am lucky to have a neighbour
A church mouse with whom I share a leaky roof
The only time I ate well was in my dreams
As usual, hunger arrived with the dawn
My bones posing alongside with me for the camera
Trying to suggest the number of days I have remaining
I have what society needs but they ignore me
They get ill and they are a part of their disease
If these stones of ignorance allows me to eat them
I would give them eyes and they would know more than the sky
I know what you hear and what you eat
But you cannot eat what I eat or hear what I hear
By nature I have a voice and by human making other voices
That could be heard from the depths of the city
If any part of me can survive where kings cannot
Then are we not indeed greater than they?
Poverty is a state in the city of disease
Hopefully its cure grows in another state of mind
Premium services :
| Product Adverts | Poetry Publications |
PoetryAbacus. Copyright © 2010, Okpara Okechukwu D.
Comments/Suggestions or errors/bugs should be reported or emailed to the address:
chukwuebube@gmail.com or chukwuebube@ymail.com
Welcome to PoetryAbacus : An all-in-one passion for poetry
Copyright © 2010, OKPARA OKECHUKWU D.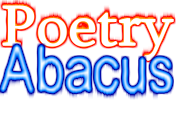 ---