Place your adverts here and enjoy the patronage of our global audience
The Suicide Bomber
A matter and martyr in the making.
He came smiling at us;
Crossing the corridor, then he turned.
Inexplicable and unpredictable, his face appeared;
And he hurried briskly inside the crowded hall.
Seen, from a valued view.
He moved and the guards suspected him;
A shared glance, not taking on trust.
Then he ran, and they chased;
Things changed, the day looking terribly sick.
A BOOM, from detonated fuels.
Explosives rejoicing;
Building blown, everywhere burning.
Blood and havoc, terrorism invented;
Mission accomplished.
Premium services :
| Product Adverts | Poetry Publications |
PoetryAbacus. Copyright © 2010, Okpara Okechukwu D.
Comments/Suggestions or errors/bugs should be reported or emailed to the address:
chukwuebube@gmail.com or chukwuebube@ymail.com
Welcome to PoetryAbacus : An all-in-one passion for poetry
Copyright © 2010, OKPARA OKECHUKWU D.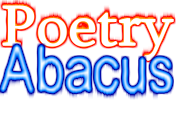 ---