Place your adverts here and enjoy the patronage of our global audience
Written while listening to BBC World Have Your Say programme about China's influence in Africa.
China's Spy In Africa
I heard BBC's radio debate on China's invasion of Africa.
They stressed Africa's need of a manager warning.
Africa have your say, BBC pleaded to know:
China, African's eastern colonial masters?
The International Community looking on;
At this seductive continental train,
With a beautiful influential investment book,
Which has been short-circuiting western trade systems.
China's missionaries could preach;
By spreading their booming contagious contact.
Table your strengths, China or the U's;
Africa wants to vote whom to marry.
Economic and political support, a challenge for her groom-to-be.
She dreads the sores of negative beauty and exploitations.
Her widely opened mouth is a market,
That may sell more trouble than aid.
She has a skirt of economic marginalization threads.
She needs a worthy long-term partner for her blessed bed.
That is why she kept her bridal price high;
And made scarce her reserves for this new hunter's eyes
Africa's groom must not wear:
A necktie of poor human rights records,
An enterprise shoe that strangulates local firms,
An imported pair of unhealthy made goods.
North, I need your energy resources,
East, I need your human resources,
West, I need your natural resources,
South, I need your mineral resources.
China came with the NEWS:
And appeared like a spy.
Premium services :
| Product Adverts | Poetry Publications |
PoetryAbacus. Copyright © 2010, Okpara Okechukwu D.
Comments/Suggestions or errors/bugs should be reported or emailed to the address:
chukwuebube@gmail.com or chukwuebube@ymail.com
Welcome to PoetryAbacus : An all-in-one passion for poetry
Copyright © 2010, OKPARA OKECHUKWU D.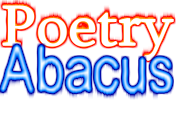 ---