Noble Nobel: is about the Nobel Prize, established by a Swedish called Alfred Bernhard Nobel. The prize is being awarded to distinguished intellectuals.
Welcome to PoetryAbacus : an all-in-one passion for poetry

Last Update :
Wed, March 16, 2016 10:36 PM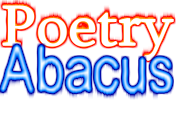 ---
| EDUCATIONAL, INSPIRATIONAL | CREATIVE, IMAGINATIVE | CLASSIC, ROMANTIC | LITERARY, CONTEMPORARY |
Copyright © Okpara C. Okechukwu D. All Rights Reserved.
|2010|
Noble Nobel
Scientist have you discovered it?
That's wonderful!
I'm Nobel.
Scholar was that your achievement?
That's excellent!
I'm Nobel.
Technologist is this real innovation?
'Tis beautiful!
I'm Nobel.
Singer was that your beautiful voice?
It sounded fine!
I'm Nobel.
Who are you?
A genius!
I'm Nobel.
Prodigy of some sort?
You're ingenious!
I'm Nobel.
Did you create this?
What a work of poetry!
I'm Nobel.
As for you?
I've your prize!
I'm Nobel.