Place your adverts here and enjoy the patronage of our global audience
Water Of Pain
Electronics good, panicked.
Canoes on roads, crude.
Vehicles' retirement, littered.
Livestock floating dead;
Flying on the high flood.
Other voyage of things beneath.
Cars taking their static swim.
Roofs important, floors not.
Residents flee, news people several.
Lives saved, property may die.
Gutters washed rejoicing.
Each street one river;
Woven out in punishment,
By an unwanted sea.
Premium services :
| Product Adverts | Poetry Publications |
PoetryAbacus. Copyright © 2010, Okpara Okechukwu D.
Comments/Suggestions or errors/bugs should be reported or emailed to the address:
chukwuebube@gmail.com or chukwuebube@ymail.com
Welcome to PoetryAbacus : An all-in-one passion for poetry
Copyright © 2010, OKPARA OKECHUKWU D.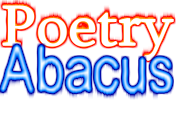 ---