E.F.C.C.'s Torch: EFCC stands for the Economic and Financial Crimes Commission. It's an anti-corruption watchdog in Nigeria.
Welcome to PoetryAbacus : an all-in-one passion for poetry

Last Update :
Wed, March 16, 2016 10:35 PM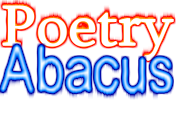 ---
| EDUCATIONAL, INSPIRATIONAL | CREATIVE, IMAGINATIVE | CLASSIC, ROMANTIC | LITERARY, CONTEMPORARY |
Copyright © Okpara C. Okechukwu D. All Rights Reserved.
|2010|
E.F.C.C.'s Torch
Your boss took the bribe?
Police Inspector General implicated and sacked!
As my searchlight beams through his immunity.
High profile money laundering?
Governors nabbed and detained!
As impeachment looms and my prison ready.
A letter from me?
Financial Secretary resigns and travels out!
As my pen wakes up his conscience.
Was that a corruption scandal?
Minister probed and charged!
As I weigh his involvement.
They embezzled public funds?
Government officials involved and are on the run!
As I uncover the others in the network.
Got the details of a fraudulent act?
Send them to me and do not worry!
As my torch shall solve the rest.