Place your adverts here and enjoy the patronage of our global audience
The World's Nightmares
Corrupted reign of intellectual deficiencies in leadership
Distorted lives and lies claims the news
Unfulfilled promises crippling the economy and killing the weak
A burial for the tradition, crucify the culture
In the name of experiments, the environment gets tortured
Why help the masses by compounding their miseries?
Why learn a polluted philosophy and unfit education?
The graduates of organized crime hailed
Wasted funds on white elephant projects
The Jury and money a new friendship, flocking together
The world doesn't need men's business but to rest!
Poor species of prayers are born
Many masters but one worshipper
Should sacred objects go from the altar to war?
Is it worthy for mortal treasures to be toiled for?
Chronic religious misunderstanding and intolerance climbing the mountains
Some sing of sin while others steal the sound
Which is more influential money or faith?
The Golden Rule was not made for computers to understand
Diseases that neither cure nor healing conquers are running on a geometric scale
Disaster knocks on nature and health as it likes
Global challenges yet no global measures
Is suicide a paradoxical accident?
Should religion marry their children to death and proclaim them martyrs and saints?
'Threats and Terrorism' another science has come
The worries of wars brings the worst
Bombs and missiles, the new communication mechanisms?
Every unsaved local dream builds up a world nightmare!
Premium services :
| Product Adverts | Poetry Publications |
PoetryAbacus. Copyright © 2010, Okpara Okechukwu D.
Comments/Suggestions or errors/bugs should be reported or emailed to the address:
chukwuebube@gmail.com or chukwuebube@ymail.com
Welcome to PoetryAbacus : An all-in-one passion for poetry
Copyright © 2010, OKPARA OKECHUKWU D.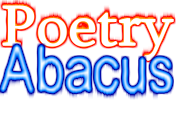 ---