Welcome to PoetryAbacus : an all-in-one passion for poetry

Last Update :
Thu, March 31, 2016 8:17 PM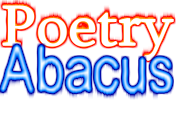 ---
| EDUCATIONAL, INSPIRATIONAL | CREATIVE, IMAGINATIVE | CLASSIC, ROMANTIC | LITERARY, CONTEMPORARY |
Copyright © Okpara C. Okechukwu D. All Rights Reserved.
|2010|
Awaiting Judgment Day
Earth will be filled with realms of sulphur
On that day the sun will shed tears.
All the virtues ever known would be poisoned.
Dead treasures will rise in great importance.
Silence would lead the choir.
Pains will be incurable.
There would be hope for only immortality.
Let your necessity for godliness grow hungry now.
If you are well, start living well now.
Empty books would make the minds of those who lament and cause
They are no better than blank sheets for Braille.
The only question that you can ask will be those that you can answer.
Can a spider entangle itself with its cobweb?
The legacy of the dead is not always an advice worthy to be ignored.
Now that there's hope, let's observe the life of the brilliant stars
Of things that have always being pure.
And remember that good fights for better.
Also that life is blameless but the person that lived it may be blamed.