Welcome to PoetryAbacus : an all-in-one passion for poetry

Last Update :
Thu, March 31, 2016 8:16 PM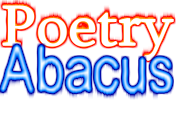 ---
| EDUCATIONAL, INSPIRATIONAL | CREATIVE, IMAGINATIVE | CLASSIC, ROMANTIC | LITERARY, CONTEMPORARY |
Copyright © Okpara C. Okechukwu D. All Rights Reserved.
|2010|
One Doctrine's Defence
To speak not of sin language vow you now
That of saints you uphold with your tongue here
These confirmed?
Let be Peter's rock the faithful implant in divinity
And the queen mother of it eternal
Long live the tradition!
Heresy upon heresy they may drive
Crucify the apostolic church, murder holy her
Their doom is foretold
Catholicism is a land even demons are unwilling to till
For it is mightier than they
Deadly to their species and health
War on those who war with the mother church
In Hell let their burning continue
And have their mess, swallowing pains with the devil
As long as sin's death can be out of existence womb
The church will endure with her holy grounds, with her troubles conquered
That is sure, truly real, and will ever be!