I definitely wrote this poem on a Valentine's Day (Feb. 14).
I intentionally reduced the font size of some of the lines. I don't want the verses to look as if it were five lines. Anyway, all the second and fourth lines of the four verses end with a period (full stop).
Since I was dealing with "14", I should've made this poem a sonnet. Don't you think so?
Welcome to PoetryAbacus : an all-in-one passion for poetry

Last Update :
Sun, April 3, 2016 7:25 PM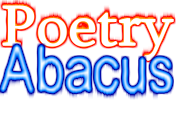 ---
| EDUCATIONAL, INSPIRATIONAL | CREATIVE, IMAGINATIVE | CLASSIC, ROMANTIC | LITERARY, CONTEMPORARY |
Copyright © Okpara C. Okechukwu D. All Rights Reserved.
|2010|
Fourteen Fornications
O Valentine, a prevailing evil looms in your bosom
Caused by a misunderstood history; ignored significance.
O teens of valentine's wrong love
Fornication is not a treasure; its birth is not for your good hearts.
O Valentine, a corruption flu seek your saints
Dark and lust piercing passionate flesh; young and pure deceived.
O army of sexual ecstasy
The body is a holy temple; by unstained dignity saved.
O Valentine, your church is there
Yet your laws suffer broken; there in the church they are also broken.
O better die on graduation day and to heaven go
Than to die fornicated; and so soul lost.
O Valentine, what a good teacher you were
Training people not to follow such iniquity; not to learn the art of fornication's train.
O travelling sins has stained your goodness
Making corrupt lines in hereditary blood; in the name of your day.