Welcome to PoetryAbacus : an all-in-one passion for poetry

Last Update :
Thu, March 31, 2016 7:59 PM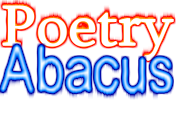 ---
| EDUCATIONAL, INSPIRATIONAL | CREATIVE, IMAGINATIVE | CLASSIC, ROMANTIC | LITERARY, CONTEMPORARY |
Copyright © Okpara C. Okechukwu D. All Rights Reserved.
|2010|
In Shoes Of Supplication
I prove you worthy to forgive:
I understand now;
That there is no better choice,
Than to lock away my silver lying tongues.
And desire a faithful name from your automatic grace,
If it pleases you.
Out of your merciful welkin;
You normally would forgive.
I provide my supplication:
I am sorry for my wrongs and false moves;
I shall erase all I have written with my cruel habits,
Murder my iniquities.
Crucify my shameful appetite for sin,
Undo my deceitful paths.
And uproot the ills I have grown in them;
Accept my supplication.