Welcome to PoetryAbacus : an all-in-one passion for poetry

Last Update :
Thu, March 31, 2016 7:57 PM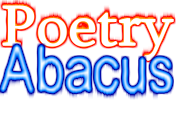 ---
| EDUCATIONAL, INSPIRATIONAL | CREATIVE, IMAGINATIVE | CLASSIC, ROMANTIC | LITERARY, CONTEMPORARY |
Copyright © Okpara C. Okechukwu D. All Rights Reserved.
|2010|
Have Faith In God
What's in a word that gives it sense?
Even among diversified tongues and brains;
A word is a meaning.
What's in a name that makes it potent?
Even kings and queens think it worthy to bear;
Everyone has one.
What's in sin that makes it great?
Even among men worshipped;
A god of its own.
What's in faith that makes it an answer?
Even when all hope has perished;
Only for one to believe.
What's in love that makes it indomitable?
Even in defeat it remains unconquered;
Perfect in a sense.
What's in God that makes Him perfect?
Even beyond reasons and mysteries;
Him alone knows.