I made some changes to the original version of this poem here. On the paper manuscript you'll notice these changes.
This poem is more of a pun. Serial killer!?
Welcome to PoetryAbacus : an all-in-one passion for poetry

Last Update :
Thu, March 31, 2016 7:23 PM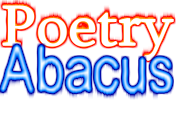 ---
| EDUCATIONAL, INSPIRATIONAL | CREATIVE, IMAGINATIVE | CLASSIC, ROMANTIC | LITERARY, CONTEMPORARY |
Copyright © Okpara C. Okechukwu D. All Rights Reserved.
|2010|
Words At War With Mr. Me
Serial 1
I thought I was skilful with 'words'.
Using 'them' skilfully
But words disagreed
They said the case is the reverse
Skilful with me they thought
I didn't invent them, they invented 'me'.
They proved I didn't 'invent' them, no doubt
But that they invented me, I doubted
Their shapes not my creation, 'twas true
But that they made mine, not truly fair
Serial 2
I protested and took up 'arms'.
Let me reform 'A' my set of words again
They laughed, you should also
As for what I implied already
'A' apparently took action. I appeared amputated
From a little helping 'dictionary'.
But 'D' shut its door
I couldn't peep nor dare
So I let it drop
'D' danced decisively and drew its danger dagger
With a stuttering lip I proposed a 'war'.
They sent 'W' which worked wonders
This wandering wizard knew how to win well
When the welcomed war came, I felt worried and went wrong
'W' walked like a whispering wave where I'm forsworn
They moved me down, moulded and made me a Mr. 'Messed' up.