A poem from Omni!Soft Literature Series (a collection of my first inspirational poems)
Welcome to PoetryAbacus : an all-in-one passion for poetry

Last Update :
Thu, March 31, 2016 8:54 AM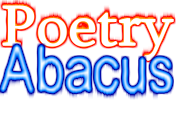 ---
| EDUCATIONAL, INSPIRATIONAL | CREATIVE, IMAGINATIVE | CLASSIC, ROMANTIC | LITERARY, CONTEMPORARY |
Copyright © Okpara C. Okechukwu D. All Rights Reserved.
|2006|
Words Worth
Words!
You are the language of speeches, the other use of the tongue.
Make easy this quest;
If it does not match your expectations, grant it a suitable justification.
The strength of your language inspires the passion I have for you.
Your advice empowers my poorly reasoned expressions.
I weep for parts of you that I really never had time for.
I also long for your other parts I did not have time to find.
Prepare yourself for me with a different flavour and taste,
fulfilling my wishes;
Be gracious to my innate instincts and capabilities.
I care for the honour and values;
Entrusting my mistakes on your care to correct and offer your sufficiency.
Many thinkers suffocated,
some drowned in you while trying to know how you earn your living.
Those that did not ask you to help their thoughts perform as their intentions wanted, required infinite intuition to carry on.
Nevertheless, you taught them your qualities,
the uniqueness of your alphabets;
And some of your other utilities that they neglected to study.
Many times I have attempted to set you on fire, investigating your worth;
And watch you burn with some strange colourless smoke.
Yet your ashes turned and evinced another difficulty,
a discovered mystery.
Asking: without me what would you be reading?
What would be the source of your description?
Things happen with you.
By you we transform our world.
Because your worth is an understanding in commonsense;
A nonempty space of knowledge;
And, a wisdom that sets us apart from all the other animals.