This could be the first long poem I've ever written. It was in my earliest poetry collection: Omni!Soft Literature Series
The other poem in the series is "Words Worth"
Welcome to PoetryAbacus : an all-in-one passion for poetry

Last Update :
Thu, March 31, 2016 8:48 AM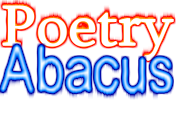 ---
| EDUCATIONAL, INSPIRATIONAL | CREATIVE, IMAGINATIVE | CLASSIC, ROMANTIC | LITERARY, CONTEMPORARY |
Copyright © Okpara C. Okechukwu D. All Rights Reserved.
|2006|
The Genius In You

There is a puppet your rational attitudes operate on;
One designed specifically for you, in you.
That puppet does things as you do;
And will do the same things just as you would.
That puppet is you and controlled by you;
The only person you can lay your hands on and experiment with.
Do not let others move you, just let yourself move you;
Yes, allow the person that has always behaved like you to control you!
The person you are is one you can either choose to know or to ignore;
Either choose to use or sideline;
Or choose to understand or kick around.
Accepting who you really are the way you are should be your first culture;
And, your first clue of finding the rest of yourself.
The aforementioned will help eliminate the imbalance that might hinder the liberty of your mindset herein.
All those competing with you are not at all like you.
They might be contesting with you, but you are not contesting with them!
You are simply acting yourself;
Whether you are in a form of competition, contest or not.
However great they prove, powerful they seem, courageous they appear;
Do not let them intimidate your modest superiority.
They may possess excess natural resources of the mind as you do.
They may be superb intellects;
with sophisticated tools of the inner workings of the mind installed in them.
Despite their calibre, prowess or personalities;
their serious efforts are a mere equivalent to your quiet simplicity.
Always believe in your own competence,
the curiosity that generates the resources you create.
You also have a great comparative advantage over others.
A merit favoured by your destiny's signature specifically for you.
This merit is your instinct and intuition;
A robot in your brains, whose flaws you can correct by fate:
Your spiritual self in perspective!
You trail your next actions by your wits.
You are not sure of others' motive – not even mine.
You know yourself better than they do;
Hence you should believe in yourself more than we do.
Trace your progress while striving for perfection;
Discover your own type of success by its scents.
The real you can hypnotize every snapshot of your pressing challenges;
The real you can control the cards of your scenes;
The real you know where your moments flow.
What a wonder you are!
What a wonder you have: the one you are made of;
That sets you apart!