I tried to type some poems which I have written out, but there was no electricity :(
Welcome to PoetryAbacus : an all-in-one passion for poetry

Last Update :
Sat, April 2, 2016 9:59 AM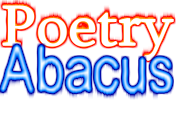 ---
| EDUCATIONAL, INSPIRATIONAL | CREATIVE, IMAGINATIVE | CLASSIC, ROMANTIC | LITERARY, CONTEMPORARY |
Copyright © Okpara C. Okechukwu D. All Rights Reserved.
|2006|
Paralyzed
He lay on his bed
Facing the ceiling
Wishing the bulb to light on
Which never did.
A week has gone
Yet no electricity
His poems are not typed
His computer idle.
He stared so hard at it
At nothing in particular
Wanting and longing for magic
But could not do it.