Welcome to PoetryAbacus : an all-in-one passion for poetry

Last Update :
Sun, April 3, 2016 1:54 AM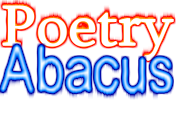 ---
| EDUCATIONAL, INSPIRATIONAL | CREATIVE, IMAGINATIVE | CLASSIC, ROMANTIC | LITERARY, CONTEMPORARY |
Copyright © Okpara C. Okechukwu D. All Rights Reserved.
|28/03/2006|
First Easter Tale
Once upon an Easter season...

The house was filled with something invisibly good passing by.
Good omen a sign of wonderful events to come.
It happens that there with her family I was;
Doing a job as a friend.
A friend of her family:
A family favourite friend.

She'd just arrived I overheard...

No accidents, uncertain journey she had made.
The day was good, a good Friday.
She greeted her family in good sequence:
"Good morning", good greetings;
As if she's observing a natural protocol.
Into her mum's impatient hugging arms she sank.

When her greetings reached my turn...

Just a handshake she offered;
I rather we had an embrace.
My eyes told hers;
My thoughts locked on her like a missile's target:
No, to something else - sorry to her I now remember.
My love for any other lady resigned then and there.

My feelings in scrambled shuffle...

Born were you - my Valentine.
You alone I'd tell;
That with purple and blue your love I'd fight for.
Fetch you romances of any pattern or colour,
And climb your heart like a throne.
Oh silence, my chastity, a good act of devotion.


Let me tell her part as best I think...

Her doubts she cautioned in her blood,
And mine she queried in her mind.
I saw her face brightened:
A face with the beauty of the best make;
With the sun's smiling teeth;
Filled with a radiance of the finest quality.

My signal signs she sighted and signed...

Her beauty is like a fragrance,
That can cause stones to swear of it.
That hour I'm sure I did not fail,
To notice all I could in such an observation in delight,
Unaware of how she was promoting my interest in her.
She's already accepted me to show her what to feel.

Three's this week of grace...

She told me that there's something,
That she wish to tell me.
That there's someone else...on the path I now seek or tread:
All the parts of my feelings silenced with hurt.
A little Easter romance, and a heavy crash of health.
'Twas good that she told me so and this at birth as she'd done.

I'd omit this part rather...or I'd break into pieces in thought

Is not as early or as easy,
As you might think I thank the Lord.
But what use is me in it - a relationship,
A lord with no crown, no garland:
For her other name's Stephanie;
So much for my happy ending?

I have always a cross but no crown...

Whether help finds me or have me not,
I'll carry my cross on and carry on with my cross.
Yet with a heart not dried of love for her.
Saddened is my write of this to know;
Sad is me and my other me's.
Friday the good of 6th to Friday 28th and bitter.