Welcome to PoetryAbacus : an all-in-one passion for poetry

Last Update :
Sat, April 2, 2016 5:41 PM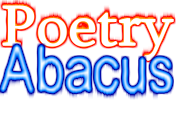 ---
| EDUCATIONAL, INSPIRATIONAL | CREATIVE, IMAGINATIVE | CLASSIC, ROMANTIC | LITERARY, CONTEMPORARY |
Copyright © Okpara C. Okechukwu D. All Rights Reserved.
|17/02/2016|
Truths Through Roots Of Me
Euterpe, Calliope, Erato;
Forged free parts of me
With the colours of best creation's altar.
Generously encompassing companions;
Illusive dreams enticing shelves
Of enough streams of ideas.
Olympus ghosts becoming written words;
Empire traversing needful imaginations
Of eloquent geysers of muse springs.
Through youths of me;
Through truths of me,
True roots of me.