Welcome to PoetryAbacus : an all-in-one passion for poetry

Last Update :
Sat, April 2, 2016 5:47 PM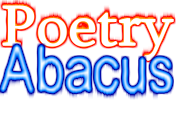 ---
| EDUCATIONAL, INSPIRATIONAL | CREATIVE, IMAGINATIVE | CLASSIC, ROMANTIC | LITERARY, CONTEMPORARY |
Copyright © Okpara C. Okechukwu D. All Rights Reserved.
|16/02/2016|
Song Of None
Healthy lives,
Fulfilling career,
Wealthy family,
Rare luck,
Song mine.
School of talents.
Birth to genius,
Built in beautiful
Voice that stuns,
Song at nine.
My orphaned lyrics all-liveliest,
My ghetto words priceless.
My voice seem motherless,
My singing none voiceless.
My song of none.