Welcome to PoetryAbacus : an all-in-one passion for poetry

Last Update :
Fri, April 1, 2016 10:36 PM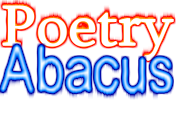 ---
| EDUCATIONAL, INSPIRATIONAL | CREATIVE, IMAGINATIVE | CLASSIC, ROMANTIC | LITERARY, CONTEMPORARY |
Copyright © Okpara C. Okechukwu D. All Rights Reserved.
|2010|
Sudden Stomach Ache
As I got to my balcony,
I saw a lizard crawling,
In a blink of an eye
It departs a hawk's grab.
That excitement aroused was immediately quenched.
My tummy was in tumult,
Making riotous noises inside;
As though its inhabitants are frogs.
Junk food is at work.
Dietary unrests, protesting;
Awful feelings released from indigestion.
Riot and curfew in my belly
My stomach ordered to burst.
Eureka! The toilet.