Welcome to PoetryAbacus : an all-in-one passion for poetry

Last Update :
Fri, April 1, 2016 10:34 PM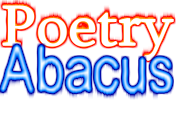 ---
| EDUCATIONAL, INSPIRATIONAL | CREATIVE, IMAGINATIVE | CLASSIC, ROMANTIC | LITERARY, CONTEMPORARY |
Copyright © Okpara C. Okechukwu D. All Rights Reserved.
|2006|
The Magnet In A World Of Woods
He was born and declared fit to live by his loving mother;
Who gave him good and lovely lullabies.
As only the sound and not the words made sense to him,
So he grew without knowing his environment.
He was as quiet as quiet can be;
Like a graveyard whose tombs are treasures of many sorts.
Treasures he neither knew how to mine nor to sell.
Neither none nor his family noticed.
They expected him to tell his mysteries;
Because the others told their tales.
Yes they were wrong, he was only four.
His experience was not in his power to explain at his age.
That was the way he lived till he grew into a lad of fifteen.
A better understanding of his life began to suffice.
Well you ought not to properly blame him for his mistakes;
Because they were made in the place they were meant for.
His reasons were so tense and got him delayed,
For four more thoughtful years with a rambling mind.
A mind that was in its finest stage of perfected built.
He was like a magnet amidst woods.
Being a breed of a different culture he suffered a strain.
This injury was in favour of nature's healing wish.
So his glory moved further away from his recovery point.
A recovery that will come only when he is out of the woods.