Welcome to PoetryAbacus : an all-in-one passion for poetry

Last Update :
Thu, March 31, 2016 8:11 AM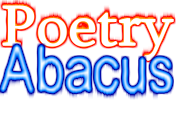 ---
| EDUCATIONAL, INSPIRATIONAL | CREATIVE, IMAGINATIVE | CLASSIC, ROMANTIC | LITERARY, CONTEMPORARY |
Copyright © Okpara C. Okechukwu D. All Rights Reserved.
|2010|
My Morning Met Me
Verse I
I had a lovely dream I have always longed for
A happening that I gladly confirmed as early as I could
By rare faith God's favour woke with it
My eyes joyfully opened from the grateful sleep
Along woke ratiocinating eyes of my senses
I solaced my foresight by mounting it
Today turned out to be something
I could make my puppet
That was one puissant reason wandering inside me.
Verse II
I knelt down to consult my morning prayers
A habit my childhood had invented
That keeps me amazingly safe
From the shores of the dawn
Right through the jungles of the day
Till the walls of the night.
Just as a sleight of imagination landed on me
I saw the roof of the morning leaking
Seconds later I heard nature talking
Suddenly the clouds puked.
I took my brunet self out of my bachelor shell
Placing it before my new quest's door
Smiling at the subsiding rain
A pungent sweetness of love's feelings
Slipped beneath the fresh morning curtains
Then I saw my special luck in the treasured day