Welcome to PoetryAbacus : an all-in-one passion for poetry

Last Update :
Sun, April 3, 2016 6:55 AM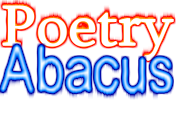 ---
| EDUCATIONAL, INSPIRATIONAL | CREATIVE, IMAGINATIVE | CLASSIC, ROMANTIC | LITERARY, CONTEMPORARY |
Copyright © Okpara C. Okechukwu D. All Rights Reserved.
|22/03/2016|
Saints Confessing Sins
We have come to know you:
Expecting a cleansing penance on our admonition shores,
With our confession sealed beneath our earthly breaths,
Daring remedy of our uncertainty puerile temptation tides.
Here knelt us like a penitent errant ant.
We have come to purge you:
In contrite healed unmerited lives that delinquently lived,
On borrowed prayers curved in mercy or compassion,
Aberrant doped repentance bond.
Beatific hyssop washed iniquitous lives.
What you mean to us:
You future-killing notorious,
Unholy theory thing,
Indeed abhorred by God venerable.
We came to know but purged you of us.