Welcome to PoetryAbacus : an all-in-one passion for poetry

Last Update :
Sun, April 3, 2016 6:55 AM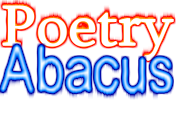 ---
| EDUCATIONAL, INSPIRATIONAL | CREATIVE, IMAGINATIVE | CLASSIC, ROMANTIC | LITERARY, CONTEMPORARY |
Copyright © Okpara C. Okechukwu D. All Rights Reserved.
|13/08/2010|
Vision


An unforgettable voice
In my head and force;
A sailing ship in my trust,
Causing my dreams to burst
The pictures of my sight.
The eternal remarkable light
Of my eyes;
My future dice,
Of pure hopeful streams,
Timing all that I shall do as it deems.