Welcome to PoetryAbacus : an all-in-one passion for poetry

Last Update :
Sun, April 3, 2016 6:55 AM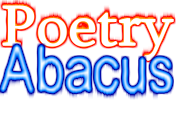 ---
| EDUCATIONAL, INSPIRATIONAL | CREATIVE, IMAGINATIVE | CLASSIC, ROMANTIC | LITERARY, CONTEMPORARY |
Copyright © Okpara C. Okechukwu D. All Rights Reserved.
|12/08/2010|
Return Of The Lost


Who can remember me or my great deeds? None –
I was an honourable government child. Till
The army fried the civilians, and took away the peace, my freedom. Then
I was at teen sentenced, banished, sealed in exile. For years –
Musty they made my rights while I gasped for survival elsewhere. Oh
What have they done to my good name?
What will you do when your land is turned against you? Your Home –
Remembers neither your help nor your name. And
Calls your face an alien. Alas
Your old voice painted dumb in lost memories. Kept you mute –
Where your words are not your own. Gee
What will you do when your fame has lost its name?
Where's everybody I had known? My friends –
I used to have a family here. No
Sign of their lives. The rumours must have killed them. Alive
Or dead I wish to be back to where I used to be. Help me –
To a mutant history in foreign space I'd arrived. From the past
An artificial image of a yesterday, aren't I?