Place your adverts here and enjoy the patronage of our global audience
Memorial Memory
I went and Oh! placed my hand
In electrifying grief for friendship and help;
To cure me of the shock and my loss,
Of whom I was to write a bitter memorable memoir.
The pains Oh! sank into me
Creating more advanced species
Of their children I knew I can't treat and heal;
With a memory that enslaves me.
They drained Oh! my mind and feel
For reasons and from reasons, I was blind to notice.
My loss remained a memory and bitter;
So I took the side that's good to me.
Premium services :
| Product Adverts | Poetry Publications |
PoetryAbacus. Copyright © 2010, Okpara Okechukwu D.
Comments/Suggestions or errors/bugs should be reported or emailed to the address:
chukwuebube@gmail.com or chukwuebube@ymail.com
Welcome to PoetryAbacus : An all-in-one passion for poetry
Copyright © 2010, OKPARA OKECHUKWU D.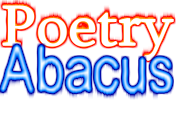 ---