Welcome to PoetryAbacus : an all-in-one passion for poetry

Last Update :
Sun, April 3, 2016 6:55 AM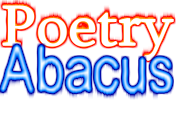 ---
| EDUCATIONAL, INSPIRATIONAL | CREATIVE, IMAGINATIVE | CLASSIC, ROMANTIC | LITERARY, CONTEMPORARY |
Copyright © Okpara C. Okechukwu D. All Rights Reserved.
|09/08/2010|
Diamonds In Partner


A white crystal in purity stretched
Inviolate, untouched as destined
Here my dearest, intense feelings
To be your lad.
Surviving all and the last threat,
My chocolate lass I obtained;
Hear my clearest of sense dealings,
Finally I'm glad.