Welcome to PoetryAbacus : an all-in-one passion for poetry

Last Update :
Sun, April 3, 2016 6:55 AM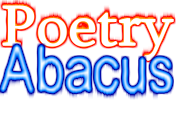 ---
| EDUCATIONAL, INSPIRATIONAL | CREATIVE, IMAGINATIVE | CLASSIC, ROMANTIC | LITERARY, CONTEMPORARY |
Copyright © Okpara C. Okechukwu D. All Rights Reserved.
| 25/05/2010 |
Darling Dollar


What's in that paper?
A man got prepared stained for it – a murderer!
My money is a bank of a dollar,
A quid nay my daily bread is a dollar.
A dollar a day.

Give me just one allot,
I'll give you myself a night that worth; you a harlot?
From shelves steal for a season,
Yourselves made available in prison.
Have your way.