I wrote this poem thinking it was a Haiku.
But do you think it is?
The webpage below
http://en.wikipedia.org/wiki/Haiku
contains a comprehensive definition of Haiku
Welcome to PoetryAbacus : an all-in-one passion for poetry

Last Update :
Sun, April 3, 2016 6:55 AM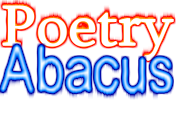 ---
| EDUCATIONAL, INSPIRATIONAL | CREATIVE, IMAGINATIVE | CLASSIC, ROMANTIC | LITERARY, CONTEMPORARY |
Copyright © Okpara C. Okechukwu D. All Rights Reserved.
|18/05/2010|
Air-Lines


An airline online
Airliner in air incline
Flight aligned in line
Alight liner decline