Welcome to PoetryAbacus : an all-in-one passion for poetry

Last Update :
Sun, April 3, 2016 6:55 AM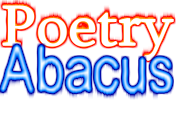 ---
| EDUCATIONAL, INSPIRATIONAL | CREATIVE, IMAGINATIVE | CLASSIC, ROMANTIC | LITERARY, CONTEMPORARY |
Copyright © Okpara C. Okechukwu D. All Rights Reserved.
|17/05/2010|
Listening Senses


I listen'd to your meditating heart
And its beating expressed a promising art.
I came to kill the soul of your stubborn tears
And not the joy it bears.
I would edify your absolute self not defy
And all you proffer shall in my transcripts kindled beautify.
I knew you'd in truth frantically write
And I've appear'd to tell your teasing senses you're right.
I came to lend you fortune's learning
And start your quill's harvest earning.
I am listening to the qualities that you soundly qualify
In dignity of reasons your senses I amiably unify.