This is a Sonnet.
There seems to be a website called www.poetfreak.com
Welcome to PoetryAbacus : an all-in-one passion for poetry

Last Update :
Sun, April 3, 2016 0:49 AM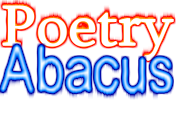 ---
| EDUCATIONAL, INSPIRATIONAL | CREATIVE, IMAGINATIVE | CLASSIC, ROMANTIC | LITERARY, CONTEMPORARY |
Copyright © Okpara C. Okechukwu D. All Rights Reserved.
|08/05/2010|
Poet Freak

The writer I am is in me typing
The writer in me is indeed writing
Wheeling words and verses down rhyming hill
Literary me feeling words at will
Counselling my tales with pen and pencil
Sure or not once or twice, can or cancel
Constructing great script ideas in my eyes
Intelligence humour named my thoughts nice
With artful terms print your lottery fee
By your right hand set a poetry free
I think I know why you are still in need
So let me help you come and have some feed
Have some tea, eat something: that's a hornet
If I might ask, did you see my sonnet?