Place your adverts here and enjoy the patronage of our global audience
Poetry Can't Quit Me

Even if my writing pen of poetry
Is blunt severely burnt;
And bees of conscience won't let me use
My best or rest;
Or the matrix of imagination ignites against
My decision great confusion;
I won't let my senses retire unwillingly without
My attention, their pension;
For I'm a twin and a mood staying
The same in name;
And I share one fate
With poetry my symmetry.


Premium services :
| Product Adverts | Poetry Publications |
PoetryAbacus. Copyright © 2010, Okpara Okechukwu D.
Comments/Suggestions or errors/bugs should be reported or emailed to the address:
chukwuebube@gmail.com or chukwuebube@ymail.com
Welcome to PoetryAbacus : An all-in-one passion for poetry
Copyright © 2010, OKPARA OKECHUKWU D.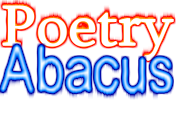 ---