Welcome to PoetryAbacus : an all-in-one passion for poetry

Last Update :
Sat, April 2, 2016 11:53 PM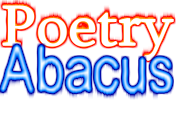 ---
| EDUCATIONAL, INSPIRATIONAL | CREATIVE, IMAGINATIVE | CLASSIC, ROMANTIC | LITERARY, CONTEMPORARY |
Copyright © Okpara C. Okechukwu D. All Rights Reserved.
|09/04/2010|
Clock Of Time
The order of things: past, present, prediction –
Used by us, yet unused seems.
Keeping in mind, minds in order;
Lest they turn awry, away or astray go.
Maintaining itself; making same journey.
Meaningless by itself,
But of high value to us.
A resource renewable but still lost.
In two numbers: twelve or twenty-four;
Relatively otherwise or in versions –
Of a gliding, sliding pair:
Day and night or light and darkness.