This poem "222" was initially created when I listened to one of my rock bands (Nightwish) song "Sleeping Sun". The line of lyric that caught my attention was: "...two hundred twenty two days of light will be desired by a night. A moment for the poet's play, until there's nothing left to say...".
Then I had to rework it into the 222nd poem of one of my poetry manuscripts.
Welcome to PoetryAbacus : an all-in-one passion for poetry

Last Update :
Sat, April 2, 2016 10:18 PM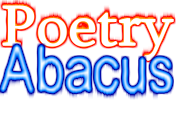 ---
| EDUCATIONAL, INSPIRATIONAL | CREATIVE, IMAGINATIVE | CLASSIC, ROMANTIC | LITERARY, CONTEMPORARY |
Copyright © Okpara C. Okechukwu D. All Rights Reserved.
|17/12/2009|
222
Two hundred and twenty two
A three of twos
Three twos
Two Two Two
An ingenuous weird imprint
Of adept choice of acute pattern
Grossly impugned founded
Admixed in visual matching
Symbol in a language
Two in three places
Two before two after two
Twenty two tied to twenty two
The trinity of twos: twonity