Place your adverts here and enjoy the patronage of our global audience
The Burial
The casket's odour seemed to have darkened heaven's colour
Crystal tears hung on my eyes like ice
Twice I noticed the sorrowful force in my voice
A hundred degrees empathy, tears of pity
Old and cold he had gone
Into the ground he entered, interred.
Premium services :
| Product Adverts | Poetry Publications |
PoetryAbacus. Copyright © 2010, Okpara Okechukwu D.
Comments/Suggestions or errors/bugs should be reported or emailed to the address:
chukwuebube@gmail.com or chukwuebube@ymail.com
Welcome to PoetryAbacus : An all-in-one passion for poetry
Copyright © 2010, OKPARA OKECHUKWU D.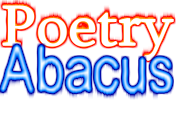 ---