Place your adverts here and enjoy the patronage of our global audience
Sudden Death
The minute when no great man can withstand,
And thoughts on strike goes.
The hour silence may sing,
A song only the owner understands.
The day that unexpectedly introduces death,
Letting one's moon marry ones untold noon.
The moment winds bring messaging tears to eyes,
Eyes forced to feel the poison, that death killed with.
Why have you called without a warrant?
You should have knocked on that helpless door,
Time that knows no patience!
Premium services :
| Product Adverts | Poetry Publications |
PoetryAbacus. Copyright © 2010, Okpara Okechukwu D.
Comments/Suggestions or errors/bugs should be reported or emailed to the address:
chukwuebube@gmail.com or chukwuebube@ymail.com
Welcome to PoetryAbacus : An all-in-one passion for poetry
Copyright © 2010, OKPARA OKECHUKWU D.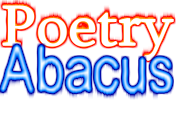 ---