Place your adverts here and enjoy the patronage of our global audience
No Longer Safe
My enemies have found my house,
Their eyes glaring at my window,
A presence that has turned my soup sour,
And blown off my hurricane lamp.
I can see their hate conspiring in their eyes,
Staring me at my helpless face,
Right into my frightened eyes,
Whose tears is threatening to fall.
There they come;
Bad omens are coming,
Their footsteps speaking louder than terror,
Deafening my frozen ears.
My house my prison be,
Spare me a saviour,
All my properties are in panic,
And have lost sense of safety.
I cannot hide any longer;
My hiding place had fled,
In one easy necessary flight,
And had long gone.
Premium services :
| Product Adverts | Poetry Publications |
PoetryAbacus. Copyright © 2010, Okpara Okechukwu D.
Comments/Suggestions or errors/bugs should be reported or emailed to the address:
chukwuebube@gmail.com or chukwuebube@ymail.com
Welcome to PoetryAbacus : An all-in-one passion for poetry
Copyright © 2010, OKPARA OKECHUKWU D.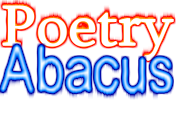 ---