Place your adverts here and enjoy the patronage of our global audience
Your Sign, Love
The first flux in loving theory:
A source from no source
An ending and beginning of no particular path
Beating the breathing hearts that knows this
Neither precisely measured nor weighed
In hotness and coldness mixed
An unreachable feeling of winter and summer twist
All my emotions I have let loosed
If I were to ask you out love:
How should I do it?
Pour out an adorable care for your feet?
Or fan you with the feather of my heart?
What if I ask you for your sign?
Would you ask me out?
Premium services :
| Product Adverts | Poetry Publications |
PoetryAbacus. Copyright © 2010, Okpara Okechukwu D.
Comments/Suggestions or errors/bugs should be reported or emailed to the address:
chukwuebube@gmail.com or chukwuebube@ymail.com
Welcome to PoetryAbacus : An all-in-one passion for poetry
Copyright © 2010, OKPARA OKECHUKWU D.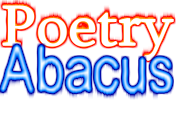 ---