Place your adverts here and enjoy the patronage of our global audience
Suffering Blessing I
I found your face for you
Trained your fine skills
Moved your lovely feet
Cleansed your heart
Purified your blood
Saved your desires
Blessed your offspring
Gave you a generation
Built you a name
Cooked for you, non-crooked foods
Demystified your roles
Minimized your suffering
Baptized you with a spiritual shelter
Punished your poverty.
Premium services :
| Product Adverts | Poetry Publications |
PoetryAbacus. Copyright © 2010, Okpara Okechukwu D.
Comments/Suggestions or errors/bugs should be reported or emailed to the address:
chukwuebube@gmail.com or chukwuebube@ymail.com
Welcome to PoetryAbacus : An all-in-one passion for poetry
Copyright © 2010, OKPARA OKECHUKWU D.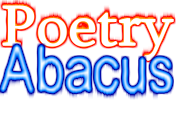 ---