Place your adverts here and enjoy the patronage of our global audience
She Left
Hairs of grief on my heart I felt,
And fear it true.
From the moment she left,
Lost I was and still am.
Help I cry please help,
Completely undone I come,
Bring her back to me.
Spooky in my head as vivid as it could,
What can I do to the grief I hear?
Thought she would again appear better,
Not even a mile near that reality was this thoughtful guess.
She is gone forever gone,
Totally broken I am,
Life will never be the same again.
Premium services :
| Product Adverts | Poetry Publications |
PoetryAbacus. Copyright © 2010, Okpara Okechukwu D.
Comments/Suggestions or errors/bugs should be reported or emailed to the address:
chukwuebube@gmail.com or chukwuebube@ymail.com
Welcome to PoetryAbacus : An all-in-one passion for poetry
Copyright © 2010, OKPARA OKECHUKWU D.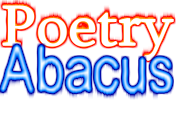 ---