She Never Survived Her Shame
A beauty danced to live.
And thrust upon her jealous heart:
A parameter man of dishonour.
Walk on by anew, she never saw.
In one accord and the rest was:
A bad sector of deceit.
Sore water rose in her eyes.
Her heart grew in rapid grief:
Of lost trust.
She was, either drowned or done,
Red, either wine or blood,
True, she drank and bled.
Welcome to PoetryAbacus : An all-in-one passion for poetry
Copyright © 2010, OKPARA OKECHUKWU D.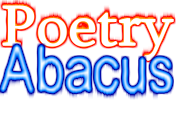 ---