Place your adverts here and enjoy the patronage of our global audience
Let There Be Poems
Let there be poems.
Create them a world,
And a remote welkin.
Let there be their sun,
Raining ample shine,
Of pouring faithful beams,
Conceiving stars of rewards.
Give them holes for their waters,
And pools of intellectual swims.
Dug with soft thoughtful touches,
From their same mother,
With other potential bloods,
Of poetic heirs.
Let the poems be.
Premium services :
| Product Adverts | Poetry Publications |
PoetryAbacus. Copyright © 2010, Okpara Okechukwu D.
Comments/Suggestions or errors/bugs should be reported or emailed to the address:
chukwuebube@gmail.com or chukwuebube@ymail.com
Welcome to PoetryAbacus : An all-in-one passion for poetry
Copyright © 2010, OKPARA OKECHUKWU D.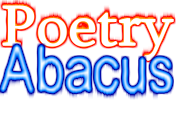 ---